One of the things that makes our designs unique and special are the amazing flowers we get to use. Each week, I select a variety of flowers that will work well together to create different and interesting colour palettes while offering a range of flower size, shape and texture.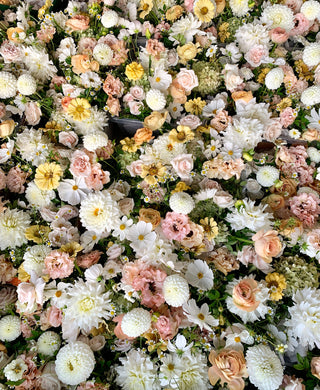 I work closely with small-scale flower growers in Southern Ontario to help curate a selection of specialty varieties not available to the mass flower market mostly available during our growing season from May-October. These flower farmers are operating on a smaller plots of land (sometimes just their backyard!) and grow outdoors in their fields or raised flower beds. They combat pests often without the use of harmful pesticides, and instead using beneficial insects or planting certain flower varieties that keep certain bugs at bay. Since they are relying on Mother Nature, the weather affects when things will bloom and varies week to week. This keeps things interesting for us as a designer's and for you as well since our fresh flower offerings changes weekly!
Using local flowers as much as possible is one small step we take to offer a more sustainable service for a better future. Check out some of our favourites below!
 Spring (Late April-May)
Novelty Tulips
Fritillaria
Daffodils
Hellebore
Flowering Branches 
Early Summer (June-July)
Peonies
Ranunculus
Sweetpea
Allium
Pansies
Mid Summer (Late July-August)
Garden Roses
Delphinium
Scabiosa
Queen Anne's Lace
Celosia
Late Summer (Late August-September)
Lisianthus
Cosmos
Dahlias
Zinnias
Foxgloves
Early Fall (Late September-Mid October)
Dahlias
Asters
Amaranthus
Grasses
Snowberry
Overall, Southern Ontario is home to a wide variety of seasonal flowers that can bring colour, texture, and beauty to any floral design. There is always beauty blooming and when you trust your florist and allow creative freedom, you will get the best outcome!